Dear Philadelphia Cream Cheese
Christopher L. Jorgensen1
P.O. Box 93042
Des Moines, IA 50393

April 10, 2008

Kraft Foods Global, Inc.
Global Consumer Relations
1 Kraft Court
Glenview, IL 60025

Dear Philadelphia Cream Cheese,
I really like your cream cheese, but was wondering if there was something better. If you could let me know that would be great!
Thanks,
Christopher L. Jorgensen

1[Autor's note: originally this letter used my home address. I stopped giving this out after Jeffrey Donovan insisted on driving me home from the bar.]
Reply:
April 21, 2008

Christopher L. Jorgensen
P.O. Box 93042
Des Moines, IA 50393

Dear Mr. Jorgensen,
Thanks for taking the time to contact us and share your thoughts. There's nothing more important to us than providing you, and every one of our consumers, with high-quality products.
For that reason, we're delighted to know that you're happy with PHILADELPHIA BRAND Cream Cheese: There's no greater reward than receiving words of praise from the people we work so hard to please.
We're proud of the products we make and thank you for providing such great feedback. It's with guidance from people like you that we continually improve the products we offer.
We appreciate you contacting us and thank you for making our products part of the food you enjoy.
Sincerely,
[signed]
Kim McMiller
Associate Director, Consumer Relations
Ref: 17243594N
enclosure
CONSUMER RELATIONS GROUP
FOR FOOD & FAMILY IDEAS VISIT OUR WEBSITE AT WWW.KRAFTFOODS.COM
ONE KRAFT COURT * GLENVIEW, ILLINOIS 60025 * (800) 3230768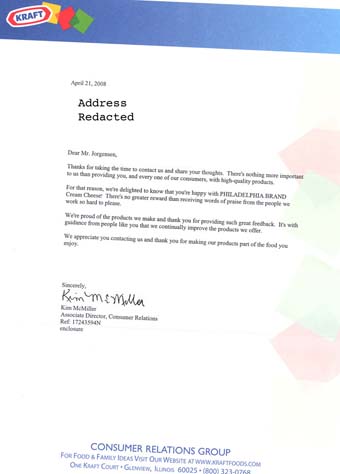 Commentary:
Have a comment? Put a stamp on an envelope and drop it in the mail to:
Christopher L. Jorgensen
PO Box 546
Ames, IA 50010
Be sure to mention what letter your comment applies to. Adding some cash with your correspondence is a good thing. You can email me at .(JavaScript must be enabled to view this email address) if you must.
Latest Replies:
Other points of interest:
Legal: