Dear Old Dutch Potato Chips
Christopher L. Jorgensen
P.O. Box 93042
Des Moines, IA 50393

April 10, 2011

Old Dutch Foods, Inc.
P.O. Box 94627
St. Paul, MN 55164-0627

Dear Old Dutch Potato Chips,
Anyone who says other potato chips are better than yours is plainly lying! The other day I found one in my belly button. True story! (It was leftover from eating chips the day before.)
My Canadian friend wanted to know if I ate it. Of course I did! Who wouldn't? It had ripples.

Sincerely,

Christopher L. Jorgensen
Reply:
April 20, 2011
Old Dutch Foods, Inc.
2375 Terminal Road • Roseville, Minnesota 55113-2577 • (651) 633-8810 • FAX (651) 633-8894

Christopher Jorgensen
PO Box 93042
Des Moines IA 50393
Dear Christopher,
Thank you for your comments. We are so grateful when our customers take time to let us know how we are doing. It is very satisfying when the comments are as favorable as yours, it really makes our day!
We are pleased that we have succeeded in providing you with a quality product, and will continue to strive for excellence in all of the Old Dutch products. Thank you for taking time out of your busy schedule to let us know how we're doing.

Sincerely,
Old Dutch Foods, Inc.
[squiggle]

Courtney
Consumer Care Representative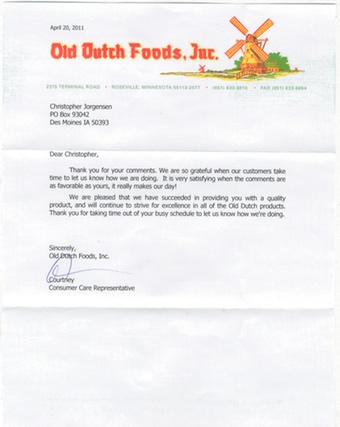 Commentary:
Have a comment? Put a stamp on an envelope and drop it in the mail to:
Christopher L. Jorgensen
PO Box 546
Ames, IA 50010
Be sure to mention what letter your comment applies to. Adding some cash with your correspondence is a good thing. You can email me at .(JavaScript must be enabled to view this email address) if you must.
Latest Replies:
Other points of interest:
Legal: