Dear Alpo
Christopher L. Jorgensen
P.O. Box 546
Ames, IA 50393

April 21, 2008

Alpo
c/o Nestle Purina PetCare Company
Customer Services
Checkerboard Square
St. Louis, MO 63164

Dear Alpo,
As you know, with the current state of the economy and the declining American dollar, many people on fixed incomes face hard choices about how best to spend their retirement checks. Sadly, an increasing number end up eating Alpo, a product not intended for human consumption. I would like you to address this issue.
Won't you please do the responsible thing and come out with "Alpo for Senior Citizens?" With a properly blended formula it should not be difficult to achieve a nutritionally balanced diet for the elderly.
No more would they be forced to eat food meant for dogs. Instead, with pride, they could buy an affordable can of food meeting the best needs of elder care. After all, why should our pets fare better than our elders?
I hope you will consider this modest proposal.

Thanks,

Christopher L. Jorgensen
Reply:
Christopher L. Jorgensen
P.O. Box 93042
Des Moines, IA 50393

May 5, 2008

Nestlé Purina PetCare
North America
OFFICE OF CONSUMER AFFAIRS
P.O. BOX 1326
WILKES BARRE, PA 18703-9985, USA
1.800.7.PURINA
www.purina.com
Dear Mr. Jorgensen,
Thank you for contacting the Nestlé PetCare Company. We always welcome questions and comments from our consumers.
Pet foods contain no ingredients that are harmful to people when ingested, however, we do not recommend people eating pet food. At this time Purina only manufactures foods for cats and dogs, and do not have any future plans to make human foods. However we will be happy to forward your comments to the appropriate departments for review.
Again, thank you for contacting Nestlé PetCare Company. Please contact our Office of Consumer Affairs in the future if we can provide additional assistance.
Sincerely,
[signed]
Sandy Seigfried
Pet Advisor
Ref: 17058919N
enclosure

CPA 2038F-05A6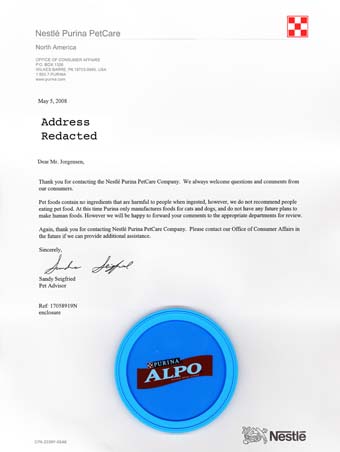 Commentary:
Have a comment? Put a stamp on an envelope and drop it in the mail to:
Christopher L. Jorgensen
PO Box 546
Ames, IA 50010
Be sure to mention what letter your comment applies to. Adding some cash with your correspondence is a good thing. You can email me at .(JavaScript must be enabled to view this email address) if you must.
Latest Replies:
Other points of interest:
Legal: