Jackass Letters: The Podcast
---
Since it appears I will be homebound for the foreseeable future, and since it seems like sending out letters is currently not the most productive use of my time, I have decided to reboot Jackass Letters: The Podcast. I even have a number where you can call and leave voice mail to appear on an episode: 515 650 1706! Just make sure you make it clear what you are replying to and who you are.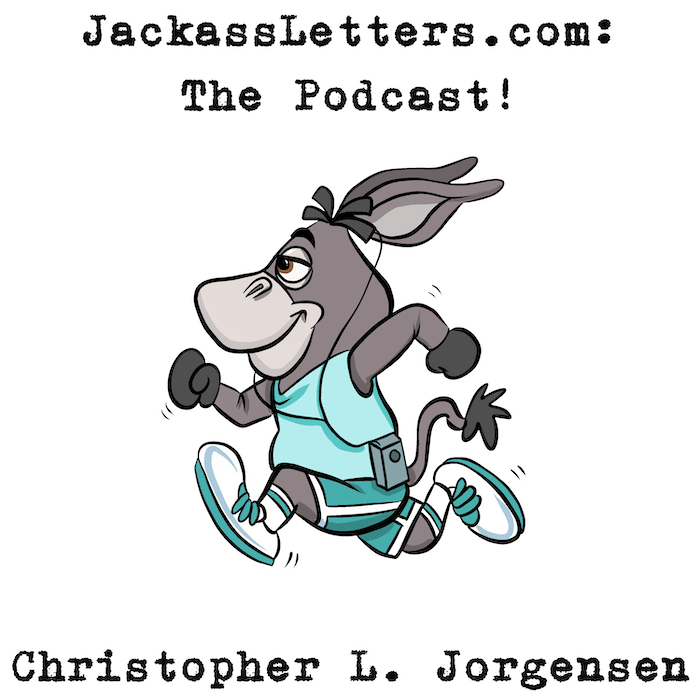 Previously, I had this idea where I would record myself reading each and every letter on the site. And while that was sort of fun, each episode of the podcast was 30 seconds to three minutes long. Not the length of your typical podcast. I also had this idea that people would read their favorite letters or replies, and I could assemble them all into a weekly episode, but that never really caught on. Add to this, I never did very many episodes at all. They were too labor intensive.
I also didn't really see enough subscribers or listeners to really make it worthwhile, and maybe I won't this time either, but one of the things I think I'll do differently is to make each episode be multiple letters. A couple unanswered letters, one with a reply, commentary on them, explanations of inside jokes, whatever. I'll probably also talk about what I am doing on the site and new features I've added or design I've changed or whatever.
I'll yammer about writing, life, and whatever I feel like at the time.
The first three episodes are up. I think I am looking at a lower-production value sort of thing that I can update without much editing. It's too easy to get bogged down striving for high value production and perfect multi-take readings with flawless editing.
That's not me.
The new podcast artwork is by Kenny Durkin. He's done some other illustrative work for me in the past, and I have a slew of images he made for the relaunch of the the site.
Anyway, if you want to subscribe, you can do so through Apple by going here: https://podcasts.apple.com/us/podcast/jackass-letters-the-podcast/id541474730
Or, you can do it from this website if you use some other app: https://jackassletters.com/podcast
Please hit subscribe, and go ahead and give it a review or a like or stars or whatever the cool kids are doing. And if you are looking for ways to support this site, I will eventually maybe perhaps be accepting sponsorships for the podcast. I am looking at making these weekly, but in order for me to keep up interest I am going to need to see people engaging with the material. Let me know what you think.
I have a lot planned for the podcast, but it's going to take me a while to get there. I'd love to build an audience, so if you enjoy what I am doing, please share my endeavors with those who you think may enjoy my writing.
Stay healthy!
Posted by Christopher L. Jorgensen on 04/23/20 at 06:25 AM