Dear Apple (pt. 3)
Kheng-Yin Beh
PO Box 491
75670, Melaka

April 27, 2012

Apple Inc.
1 Infinite Loop
Cupertino, CA 95014

Dear Apple,
It has come to my attention that the iBookstore in Malaysia does not include an option of Chinese language. Currently, only 5 languages other than English, namely French, German, Portuguese, Russian and Spanish are available to the Malaysian readers. In fact, these five non-English languages are far less common than Chinese to the Malaysians, especially the ethnic Chinese, which make up almost one fourth of Malaysia's population.
The people of our neighboring country, Singapore, however, are given a choice of Chinese books. I wonder if this is because Apple has considered its ethnic demographics, where the Chinese are dominant.
I would love to access the Chinese books in the iBookstore, but I also understand Apple will not include the Chinese category just because of one person's request. And I certainly have no intention to launch an online petition, which is basically useless and a waste of time. Instead I've decided to present demographic facts and comparisons, in hopes that Apple would consider my request based on facts.
The total population of Singapore to date is 5.35 million. The ethnic Chinese make up 76.8% of the population, but not all Chinese Singaporeans are Chinese-literate. According to Statistics Singapore, the Census of Population 2010, the Chinese literacy among Singaporeans is 65%, which is about 3.48 million people. On the other hand, the total population of Malaysia to date is 29.18 million. The ethnic Chinese make up 23.7% of the population. Just like Chinese Singaporeans, not all Chinese Malaysians are Chinese-literate. Unfortunately there is no official data on the Chinese literacy among Malaysians. But let's make a safe estimation based on the fact that there are significantly more Chinese children receiving Chinese education than those receiving English or Malay education at primary level. Says the Chinese literacy among Chinese Malaysians were 60%, that would be about 4.15 million people, which is a lot more than its counterpart in Singapore.
While the market share of iOS devices in Singapore is larger than that in Malaysia, I believe the latter is catching up. The iOS devices are still the most popular mobile devices among Malaysians, and the Chinese make the majority of the user population. On that account I don't think the demand for Chinese language support is negligible.
I am not a champion of Chinese or Chinese language, but I think it's perfectly reasonable for Apple to bring Chinese books to Malaysia (it's not like we're Texas!). Since Apple has been paying a lot of attention to the Chinese support in recent years, which is no doubt a welcome gesture for the Greater China, why not extend the support to more Chinese communities around the world?

Sincerely,

Kheng-Yin Beh
Reply:
14 May 2012
Kheng-Yin Beh
PO Box 491
Melaka 75670
Malaysia

Re: Case number: 313740796

Dear Kheng-Yin Beh,

Thank you for your recent correspondence to Apple, regarding iBookstore.
Support for the iBookstore is available at http://www.apple.com/asia/support/itunes/contact.html.
Please click on the appropriate topic to email iTunes store customer service. Our support experts will respond directly to your questions.
lf you do not have internet access or are having trouble accessing the website, please contact Apple on 1 300 321 456 for assistance between 9am to 9pm (AEST) Monday to Friday; 9am to 6pm Saturday.
For your reference, your request has been documented in Apple case number 313740796.
Thank you for your interest in Apple.
Sincerely,
[signed]
Angie
Apple
Apple
No. 7 Ang Mo Kio Street 64
Singapore 569086
www.asia.apple.com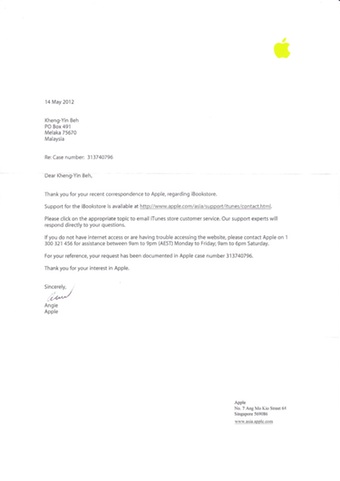 Commentary:
Have a comment? Put a stamp on an envelope and drop it in the mail to:
Christopher L. Jorgensen
PO Box 546
Ames, IA 50010
Be sure to mention what letter your comment applies to. Adding some cash with your correspondence is a good thing. You can email me at .(JavaScript must be enabled to view this email address) if you must.
Latest Replies:
Other points of interest:
Legal: