Dear Archer Farms
Christopher L. Jorgensen1
P.O. Box 93042
Des Moines, IA 50393

April 11, 2008

Target Corporation
c/o Archer Farms
1000 Nicollet Mall
Minneapolis, MN 55403

Dear Archer Farms,
I love your products. Well, the potato chips anyway. I've bought some of the other things like various pastas and such, but didn't like those as well. Your four cheese pasta wasn't very good, and I wasn't that big of a fan of the crackers I had, but then I like potato chips better than crackers regardless.
Thanks,

Christopher L. Jorgensen

1Originally this letter used my home address. Subsequent letters use my PO Box. I have used this address for consistency and to avoid confusion.
Reply:
Christopher L. Jorgensen
P.O. Box 93042
Des Moines, IA 50393

April 17, 2008

Target Corporation
c/o Archer Farms
1000 Nicollet Mall
Minneapolis, MN 55403
Dear Christopher Jorgensen:
Thanks for contacting Target® Corporation with your compliment about Archer Farms® potato chips and your comments about Archer Farms pastas and crackers. Eat Well. Pay Less — that's what shopping for groceries at Target is all about. Your comments are a big help to us, and I'll make sure to share them with our grocery team.
I've enclosed two $3 Target coupons as our invitation to come back to try other great items you're sure to enjoy. We'll keep working to make sure you can always count on the freshness and quality you've come to expect from Target.
You can find more great coupons and recipes on Target.com by clicking on the SuperTarget® link at the bottom of our home page.
Thanks for shopping with us. We'll see you again soon at Target.
Sincerely,
[pixelated signature]
Thomas
Target Guest Relations
www.target.com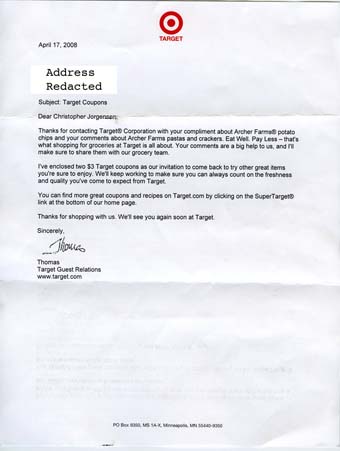 Commentary:
Have a comment? Put a stamp on an envelope and drop it in the mail to:
Christopher L. Jorgensen
PO Box 546
Ames, IA 50010
Be sure to mention what letter your comment applies to. Adding some cash with your correspondence is a good thing. You can email me at .(JavaScript must be enabled to view this email address) if you must.
Latest Replies:
Other points of interest:
Legal: