Dear Bowl Fresh
Christopher L. Jorgensen
P.O. Box 93042
Des Moines, IA 50393

September 4, 2009

Willert Home Products
4044 Park
St. Louis, MO 63110

Dear Bowl Fresh,
On the back of your packaging you state, "Safe to use around pets and children, although it is not recommended that either be permitted to drink from toilet."
Then later it says, "CAUTION: KEEP OUT OF REACH OF CHILDREN. HARMFUL IF SWALLOWED. EYE IRRITANT."
Which is it? Is your product safe to use around children or not?
Also, I've seen some pretty horrible parenting in my lifetime, like parents that let their kids hang over the back of the booth at Perkins annoying me, but I can't imagine even the crappiest (ha ha!) of parents allowing their children to drink out of a toilet bowl, especially if it contained Bowl Fresh (whether it's safe to drink or not).
Sincerely,

Christopher L. Jorgensen
Reply:
Willert Home Products

14 September 2009

Christopher L. Jorgensen
P. O. Box 93042
Des Moines, IA 50393

Christopher L. Jorgensen
[handwritten address redacted]
Dear Christopher,
Thank you for taking the time to write to us concerning Bowl Fresh Toilet Bowl Cleaner.
This product contains mild detergents, borax, fragrance and blue dye. The blue tablet may be toxic to children and pets if swallowed. Once the tablet is placed into the tank and released into the toilet bowl water is considered non toxic. We must link the statement to the toilet bowl water. Believe it or not, we have had situations where children and pets have taken a drink of toilet bowl water. Fortunately neither became ill or displayed any unusual behavior.
In appreciation of your business we are enclosing complimentary samples of our products.
Sincerely,

Shelley Cade
Willert Home Products
4044 Park Avenue
St. Louis, MO 63110
[email and direct phone lines redacted]
4044 PARK AVENUE, ST LOUIS, MO 63110 314-772-2822 FAX: 314-772-1409 WWW.WILLERT.COM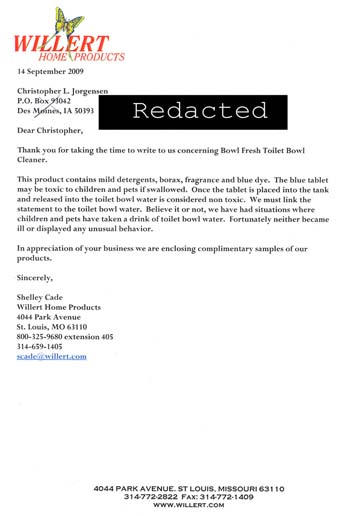 Commentary:
Have a comment? Put a stamp on an envelope and drop it in the mail to:
Christopher L. Jorgensen
PO Box 546
Ames, IA 50010
Be sure to mention what letter your comment applies to. Adding some cash with your correspondence is a good thing. You can email me at .(JavaScript must be enabled to view this email address) if you must.
Latest Replies:
Other points of interest:
Legal: