Dear Cheesecake Factory
Christopher L. Jorgensen
P.O. Box 546
Ames, IA 50010

May 1, 2008

The Cheesecake Factory Incorporated
26901 Malibu Hills Road
Calabasas Hills, CA 91301

Dear Cheesecake Factory,
I really like your food, but unfortunately I am in the lower middle class, so can't eat there except on special occasions (like once every other year or two). So I was writing to ask if you could come up some some more affordable options. Like maybe half portions on meals, or a "sampler slice" of cheesecake. This would help impoverished people like me and fat people too!
If you feel like it you could send me some "buy one, get one free" coupons, then I could at least eat there annually. Or you could mail me a slice of cheesecake or something. I like pretty much anything that's chocolate (unless it has coconut in it).

Thanks,

Christopher L. Jorgensen
Reply:
May 06, 2008
Christopher L. Jorgensen
P.O. Box 93042
Des Moines, IA 50393

Dear Mr. Jorgensen:
Thank you for your interest in The Cheesecake Factory Incorporated.
Your suggestion for more affordable options will be shared with our Culinary Team. They appreciate hearing our guest feedback, and often use it to guide them on future decisions. In the meantime, we do offer a bar menu that offers small plates of some of our favorites. It is served Monday-Friday from 4:00-6:00 p.m. I have attached a copy of our bar menu for you to look at and hopefully you can enjoy our food at a more reasonable price.
Thank you for contacting us and have wonderful day!
Sincerely,
[signed]
Alan Hart
Guest Service Coordinator
The Cheesecake Factory Incorporated • 26901 Malibu Hills Road • Calabasas Hills, CA 91301 • (818) 871-3001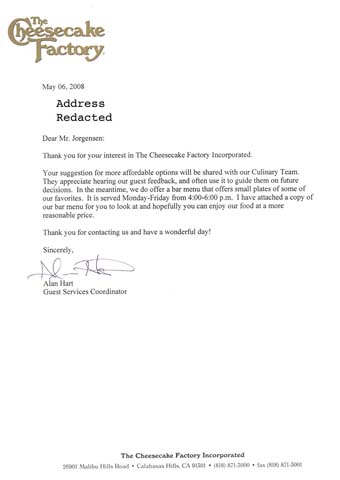 Commentary:
Have a comment? Put a stamp on an envelope and drop it in the mail to:
Christopher L. Jorgensen
PO Box 546
Ames, IA 50010
Be sure to mention what letter your comment applies to. Adding some cash with your correspondence is a good thing. You can email me at .(JavaScript must be enabled to view this email address) if you must.
Latest Replies:
Other points of interest:
Legal: