Dear Double Bubble
Christopher L. Jorgensen
P.O. Box 93042
Des Moines, IA 50393

June 16, 2008

Double Bubble
c/o Concord Confections LTD.
345 Courtland Avenue
Concord, Ontario, Canada
L4K 5A6

Dear Double Bubble,
I think you should come out with a commercial with witches chewing gum and chanting:
Double, double toil and trouble;
Fire burn, and caldron bubble.
They could be mixing up a batch of gum while doing it. See, the quote has "Double Bubble" in it and such a commercial would go over great with the English major types! And the best part is since Shakespeare's dead you wouldn't have to pay him any royalties!
Oh, and I tried to send you my idea using your internet webpage, but all I got was a page that said:
The requested URL /contact.html was not found on this server.
This is kind of annoying. A broken link right on your main page! You should fire your webguy. Why are you making is so hard for people to contact you? What are you TRYING TO HIDE!

Sincerely,

Christopher L. Jorgensen
Reply:
Tootsie Roll Industries, LLC
7401 South Cicero Avenue • Chicago, IL 60629 • (773) 838-3400
Fax 773/838-3534

June 26, 2008

Christopher L. Jorgensen
P.O. Box 93042
Des Moines, IA 50393

Dear Christopher:
Thank you for writing. Our consumers are loyal, and consequently, we do on occasion receive letters of suggestion from the public.
Our product research and development, as well as marketing and advertising, are all internal, and so we do not accept outside suggestions.
We, of course, realize that you wrote to us with the very best of intentions, and we do appreciate your interest in our company and our products.
Sincerely,
TOOTSIE ROLL INDUSTRIES, INC.
for Concord Confections
[signed]
Janet M. Vasilenko
Consumer/Public Relations
Administrator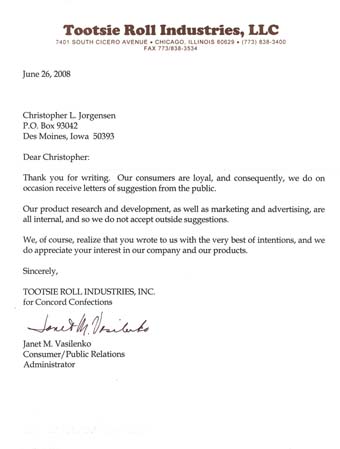 Commentary:
Have a comment? Put a stamp on an envelope and drop it in the mail to:
Christopher L. Jorgensen
PO Box 546
Ames, IA 50010
Be sure to mention what letter your comment applies to. Adding some cash with your correspondence is a good thing. You can email me at .(JavaScript must be enabled to view this email address) if you must.
Latest Replies:
Other points of interest:
Legal: