Dear Frank's RedHot
Christopher L. Jorgensen
P.O. Box 546
Ames, IA 50010

September 19, 2012

Consumer Relations
Reckitt Benckiser LLC
P.O. Box 224
Parsippany, NJ 07054-0224

Dear Frank's RedHot,
I love your commercials where the old woman Ethel says she "puts that shit on everything," but instead of actually using the word shit you bleep it. I laugh every time! I can totally relate to her (other than I'm not yet old and am all man!) I too put hot sauce on everything. Usually it's Dave's or Blair's, but occasionally it's some sriracha when I am slumming it.
Only Blair makes it spicy enough. Dave has decent flavors, but is never hot enough. I'd like to try some Frank's, but I doubt it'll be hot. All the time companies put "spicy" and "hot" on their products just to get me to buy them and then when I do they aren't hot at all! Only Blair tells the truth about his sauces.
So if I try a bottle of Frank's, and it's not hot. who do I send it to for a refund? Because I aint putting that shit on everything if don't have some kick.

Sincerely,

Christopher L. Jorgensen
Reply:
Reckitt
Benckiser
October 1, 2012

Mr. Christopher L. Jorgensen US 000238
P. O. Box 546
Ames, IA 50010
Dear Mr. Jorgensen:
Thank you for contacting Reckitt Benckiser regarding Frank's (R) RedHot (R) Cayenne Pepper Sauce.
To better address your concerns, it would be helpful to discuss this matter with you directly. Please call me at 1-800-228-4722, choosing option (1) on the automated menu, weekdays between 9:00am and 5:00pm Eastern Time.
We appreciate the opportunity to respond to your concerns, and look forward to hearing from you at your earliest convenience.

Sincerely,

Pat Riley
Consumer Relations
C240734230
Reckitt Benckiser LLC
PO Box 224
Parsippany, NJ 07054-0224
T 973 404 2600
F 973 404 5699
www.reckittbenckiser.com

US 000238 01 - 01 000240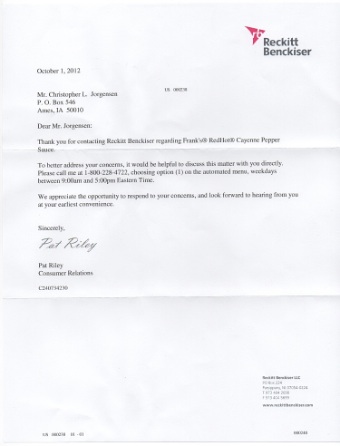 Commentary:
Have a comment? Put a stamp on an envelope and drop it in the mail to:
Christopher L. Jorgensen
PO Box 546
Ames, IA 50010
Be sure to mention what letter your comment applies to. Adding some cash with your correspondence is a good thing. You can email me at .(JavaScript must be enabled to view this email address) if you must.
Latest Replies:
Other points of interest:
Legal: