Dear Gov. Schwarzenegger (CA)
Christopher L. Jorgensen
P.O. Box 546
Ames, IA 50010

December 9, 2008

Governor Arnold Schwarzenegger
State Capitol Building
Sacramento, CA 95814

Dear Governor Arnold Schwarzenegger,
Could I please get an autographed photo for my girlfriend? Just make it out to "
[Redacted]
."
Also, I was wondering do you ever say "to crush your enemies, see them driven before you, and to hear the lamentation of the women" anymore? I bet that would drive the Democrats absolutely nuts!

Thanks,

Christopher "It's not a tumor!" Jorgensen
Reply:
Office of the Governor

February 4, 2009

Dear Mr. Jorgensen,
Thank you for your letter requesting my photo. I always appreciate hearing from my supporters and fans. As Governor, I've been honored by the number of well-wishers who have taken the time to write me.
I have enclosed a photo for your collection, with my compliments. Again, thank you for your correspondence.
Sincerely,
[signed]
Arnold Schwarzenegger
Enclosure
Governor Arnold Schwarzenegger • Sacramento, California 95814 • (916) 445-2841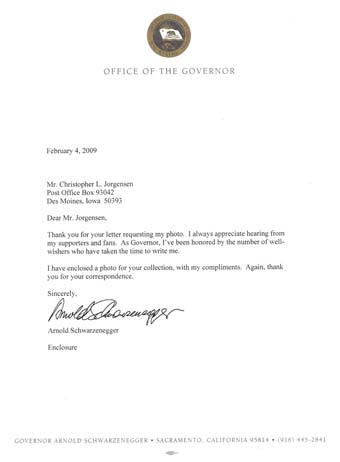 Commentary:
Have a comment? Put a stamp on an envelope and drop it in the mail to:
Christopher L. Jorgensen
PO Box 546
Ames, IA 50010
Be sure to mention what letter your comment applies to. Adding some cash with your correspondence is a good thing. You can email me at .(JavaScript must be enabled to view this email address) if you must.
Latest Replies:
Other points of interest:
Legal: