Dear Loris Bog-Off Festival
Christopher L. Jorgensen
P.O. Box 546
Ames, IA 50010

September 21, 2010

Loris Bog-Off Festival
4242 Main ST PO Box 356
Loris, SC 29569

Dear Loris Bog-Off Festival,
For the life of me I couldn't tell you what a "Bog-Off Festival" is, so I decided to do a little research and found it features "a chicken bog cooking contest." At this point I gave up.
I'm from Iowa, so none of this makes sense to me.
So fire away, explain it to me like I am an idiot.

Sincerely,

Christopher L. Jorgensen
Reply:
The Loris Chamber of Commerce
Visitors and Convention Bureau, Inc.
4242 Main Street • P. O. Box 356
Loris, South Carolina 29569
Phone: 843-756-6030
Fax: 843-756-5661
Loris
Reaching out
to bring
you in.
Loris, South Carolina

Dear Christopher Jorgensen,
Thank you for inquiring about our town's festival and southern dish of chicken bog. I have enclosed a relocation guide from our town and marked a place for you to read about our festival and what a chicken bog is. I hope this will help but please contact me if you have any further questions. We also extend to you an invitation to come visit us in Loris and hopefully the Loris Bog-Off Festival.

Sincerely,

Samantha Norris
Executive Assistant to the Board of Directors
Loris Chamber of Commerce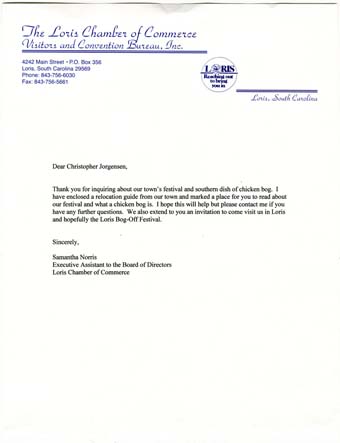 Commentary:
Have a comment? Put a stamp on an envelope and drop it in the mail to:
Christopher L. Jorgensen
PO Box 546
Ames, IA 50010
Be sure to mention what letter your comment applies to. Adding some cash with your correspondence is a good thing. You can email me at .(JavaScript must be enabled to view this email address) if you must.
Latest Replies:
Other points of interest:
Legal: