Dear Mesa Tactical
Christopher L. Jorgensen
P.O. Box 546
Ames, IA 50010

September 26, 2012

Mesa Tactical
1760 Monrovia Ave, #B1
Costa Mesa, CA 92627
Dear Mesa Tactical,
The other day one of my Facebook friends, Phil James, liked your "Mesa Tactical" page on Facebook, so I looked at what he was liking. I have to admit I didn't get it, but then people like the stupidest shit on Facebook. I visited your site and fell in love with your SureShell Shotshell Carriers! Man, I wished I lived the kind of life where owning something like this would make sense, but honestly, I don't have kids so my need for this would be limited. Also, as you can see from my address I live in Iowa. We don't really have much crime here.
Phil lives in Colorado though and from what he tells me shit be crazy there! I don't know why he liked your page. I am sure there is something you make that he wants. Or maybe he already owns everything you make and that's why he got excited you are on Facebook.
Anyway, I thought if you sent me something like a hat or some stickers or a gun or something that would let Phil know I was looking out for him that would be great. I promise I'll pass it along unless it's so cool I want to keep it for myself. It would have to be cooler than a hat that says "Cocksucker" on it though. I sent one of those to Phil already.
Sincerely,

Christopher L. Jorgensen
Reply:
MESA TACTICAL

October 22, 2012

Dear Chrisotpher,

Thank you for taking the time to write us a letter. We had quite an enjoyable time reading your elaborated letter. Needless to say it was Unique and graphic.

As a Thank YOU for your letter and Support, I have included a T-shirt and Hat enclosed.

Hope they are the correct fit and hope you enjoy your Gift.
Have a great day!

Mesa Tactical Staff
Gear and accessories for law enforcement, military and personal defense.
1760 Monrovia Ave, #B1 • Costa Mesa, CA 92627 • Tel: 949-642-3337 • Fax: 949-642-3339
MT_Letterhead_121022.doc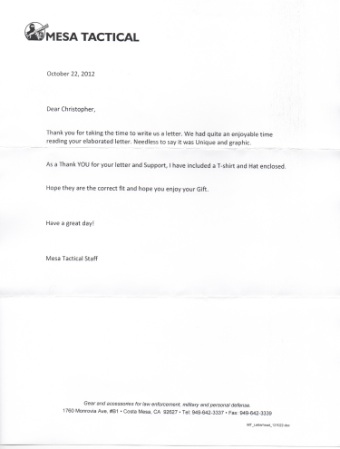 Commentary:
Have a comment? Put a stamp on an envelope and drop it in the mail to:
Christopher L. Jorgensen
PO Box 546
Ames, IA 50010
Be sure to mention what letter your comment applies to. Adding some cash with your correspondence is a good thing. You can email me at .(JavaScript must be enabled to view this email address) if you must.
Latest Replies:
Other points of interest:
Legal: