Dear PetSmart
Christopher L. Jorgensen
P.O. Box 546
Ames, IA 50010

June 23, 2008

Pet Smart
19601 N 27th Avenue
Phoenix AZ 85027

Dear Pet Smart,
I was hoping you could suggest a new pet for me. I am wanting something cute and cuddly (preferably furry). I am concerned with lifespan though. It says online hamsters live for an average of two years. This seems a little too long to me. I know I could "help it along," but this seems wrong.
Is there anything like a hamster that lives around six months (I am commitment phobic). I was thinking of something like a puppy, but less tasty, and a bit smaller.
Thanks for any help you can give!
Sincerely,

Christopher L. Jorgensen
p.s. I see on your website that you have saved three million, three hundred thirty-six thousand, nine hundred forty-three lives. That's a lot of people! You guys should get a medal!
Reply:
Pet Smart
---
19601 North 27th Avenue • Phoenix AZ 85027 • (623) 580-6100

Christopher L. Jorgensen
P.O. Box 546
Ames, IA 50010
June 27, 2008

Dear Christopher,
Thank you for taking the time to contact us here at PetSmart.
At this time I would recommend that you speak with the Manager on Duty of the store nearest you. The Manager on Duty will be able to answer any questions you may have.
To Find your local PetSmart store please seek the PetSmart store locator found on www.petsmart.com.
I hope this information will assist you and thank you for choosing PetSmart.
Sincerely,
Amanda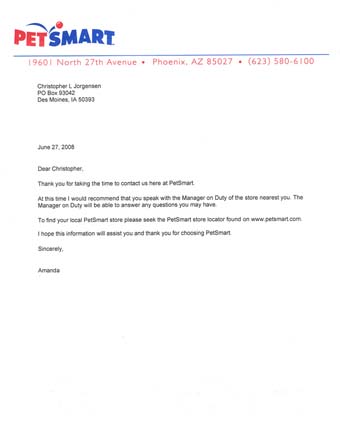 Commentary:
Have a comment? Put a stamp on an envelope and drop it in the mail to:
Christopher L. Jorgensen
PO Box 546
Ames, IA 50010
Be sure to mention what letter your comment applies to. Adding some cash with your correspondence is a good thing. You can email me at .(JavaScript must be enabled to view this email address) if you must.
Latest Replies:
Other points of interest:
Legal: