Dear Pilot Pen
Christopher L. Jorgensen
P.O. Box 93042
Des Moines, IA 50393

December 8, 2009

Pilot Corporation of America
Customer Service Manager
60 Commerce Drive
Trumbull, CT 06611

Dear Pilot Pen,
I must apologize for typing this letter. If you saw my handwriting you'd understand why it is necessary (my girlfriend makes fun of it and calls it "Christopher at 5" and I have to admit it looks like a doctor's or serial killer's).
Anyway, I do a lot of singing of letters. Sometimes three or four a day. Previously I used a Papermate Flexgrip Ultra Medium point pen to sign all my letters. That pen doesn't have the best flow, but the ink looks good on paper and it doesn't really smudge much. Recently, I ended up using one of your Pilot Precise V5 Extra Fine pens and I have to say, not only is it a more stylish pen, it also glides across the page effortlessly and doesn't smudge at all! I'm using it nearly exclusively!
This pen is great, but this got me thinking that there might be something better out there, so I started to do some research on the internet, and I had no idea there were so many pen nuts out there! There are whole sites dedicated to nothing but pen reviews. Before using the Precise V5 Extra Fine pen I would have never understood how a person could get so excited about a pen.
I love this pen and am going to use it to sign this letter!

Sincerely,

Christopher L. Jorgensen
Reply:
PILOT
QUALITY WRITING INSTRUMENTS SINCE 1918

12/22/2009

Mr. Christopher Jorgensen
P. O. Box 93042
Des Moines, Iowa 50393
Subject: Pilot Precise V5 Rolling Ball Pen
Dear Mr Jorgensen:
Thank you for writing to us. We appreciate your enthusiasm for quality writing instruments. Your observations regarding our Pilot Precise V5 Rolling Ball pen will be shared with our Marketing Department for consideration when making decisions concerning additions to our product offerings.
Please accept the enclosed sample with our compliments and wishes for your continued writing pleasure.
Once again, we value your comments as they assist us in our efforts to provide writing instruments of the highest quality.
Sincerely,
[signed presumably with a Pilot pen]
Holly Houser
Consumer Advisor
Enclosures: 2 ea. PV5 BLK, BLU
File: JORGENSENC50393
Ref: 21442
PILOT CORPORATION OF AMERICA • 3855 REGENT BOULEVARD • JACKSONVILLE, FLORIDA 32224
TELEPHONE (904) 645-9999 • FAX (904) 996-2974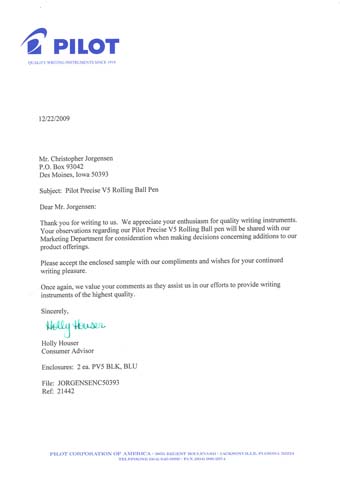 Commentary:
Have a comment? Put a stamp on an envelope and drop it in the mail to:
Christopher L. Jorgensen
PO Box 546
Ames, IA 50010
Be sure to mention what letter your comment applies to. Adding some cash with your correspondence is a good thing. You can email me at .(JavaScript must be enabled to view this email address) if you must.
Latest Replies:
Other points of interest:
Legal: