Dear Sheetz
Christopher L. Jorgensen
P.O. Box 546
Ames, IA 50010

April 14, 2015

Sheetz, Inc.
5700 Sixth Ave.
Altoona, PA 16602

Dear Sheetz,
A friend told me about your restaurants, so I looked up where the closest one was and immediately became sad. Your food looks like it's custom made for my palate. Pizzas, subs, burritos, wings, pretzels, chicken sandwiches, smoothies, nachos, coffee, fried apple slices, tots, donuts, rolls and breakfast are all foods I like! Seriously, if you had a Sheetz anywhere near me I would probably never cook again.
I'd go on a road trip if I knew which location was the closest, but that seems a bit silly. Making me go all the way to you seems like a waste of my time. Obviously, what you need to do is open a Sheetz in Ames, IA! I guarantee it would go over well here. College kids drink a lot and eat a lot when they are drunk. You'd make some serious bank. If you did open here I would eat there more than any college kid (I promise!).
I could imagine doing some kind of publicity stunt where I spend like a whole week in your restaurant. I'd obviously bring in some spare clothes, and a bedroll, but I could probably stay clean enough just sponge-bathing in the bathroom sink. What do you think? You could just pay me in food. Try to give me a bit of notice so I can take the time off work.

Sincerely,

Christopher L. Jorgensen
Reply:
FRESH FOOD
SHEETZ
MADE TO ORDER
April 17, 2015
Christopher Jorgenson
P. O. Box 546
Ames, IA 50010
Dear Christopher,
We first would like to thank you for taking the time to write us regarding new location opportunities. We really appreciate your kind words. Unfortunately, there are no current plans for a new store location in the Ames, IA area. We try to expand outward from our existing locations for distribution reasons. One day, you may see a Sheetz sign in your area and it is great to know that if we do come to this area, we'll have a loyal customer waiting for us.
If we can be of any additional service, don't hesitate to ask. Thank you and have a great day!
Sincerely,
[signed]
Courtney F.
Customer Service Representative
Sheetz, Inc.
Issue #795360
5700 Sixth Avenue Altoona, Pennsylvania 16602 T: 814.946.3611 F: 814.946.4375
www.SHEETZ.com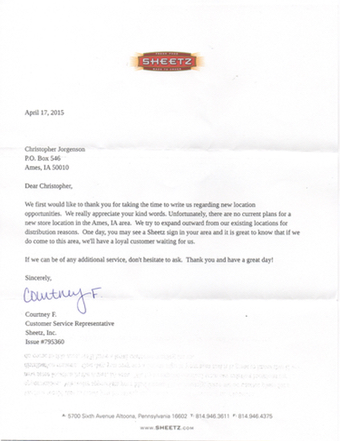 Commentary:
Have a comment? Put a stamp on an envelope and drop it in the mail to:
Christopher L. Jorgensen
PO Box 546
Ames, IA 50010
Be sure to mention what letter your comment applies to. Adding some cash with your correspondence is a good thing. You can email me at .(JavaScript must be enabled to view this email address) if you must.
Latest Replies:
Other points of interest:
Legal: