Dear Firestone
Christopher L. Jorgensen
P.O. Box 546
Ames, IA 50010

January 11, 2009

Firestone
Bridgestone Americas, Inc.
535 Marriot Drive
PO Box 140990
Mashville, TN 37214-0990

Dear Firestone,
What's a guy got to do to get some stickers or something else that's cool? I'm asking for a friend. I know, I bet you hear that a lot, but in this case it's true! My friend, Joel Postman, would like to know what it would take to get some stickers or something cool, so I said I'd ask, so I am asking. I promise to pass the information onto him.
Don't be surprised if you get a request for something cool from Joel Postman. Well, unless you don't answer this letter. Then I won't know what to tell him, and he won't know who to ask, and you'll hear nothing. So if you don't write back I'll just assume you didn't want Joel Postman writing you!
You do know who Joel Postman is, right?
Sincerely,

Christopher L. Jorgensen
Reply:
[Editor's Note: Firestone did not send a reply. Just a lot of stuff: Stickers, two hats, and some free tires! Well, ok, so they didn't send tires, but they did send the rest of the stuff pictured!]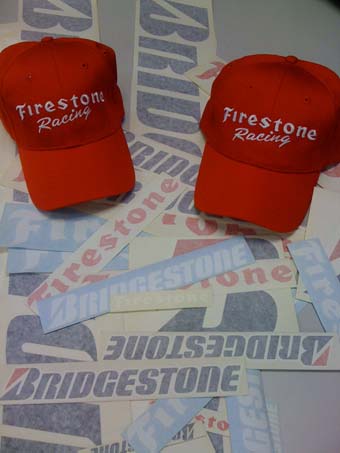 Commentary:
Have a comment? Put a stamp on an envelope and drop it in the mail to:
Christopher L. Jorgensen
PO Box 546
Ames, IA 50010
Be sure to mention what letter your comment applies to. Adding some cash with your correspondence is a good thing. You can email me at .(JavaScript must be enabled to view this email address) if you must.
Latest Replies:
Other points of interest:
Legal: