Dear Pepsi
Christopher L. Jorgensen1
P.O. Box 93042
Des Moines, IA 50393

April 10, 2008

PepsiCo, Inc.
700 Anderson Hill Road
Purchase, NY 10577

Dear Pepsi,
I honestly like Coke better than Pepsi, but I like Mt. Dew more than Mello Yello, so I am confused by which soda company is my favorite. So I decided to write this letter and ask for some free stuff. I'm sending this same letter to both companies. The one that sends me cooler swag will be my official favorite beverage maker!
Thanks,
Christopher L. Jorgensen
cc: Coke

1[Editor's Note: Originally this letter used my home address, but I stopped giving this out Gabrielle Anwar kept stealing my yogurt.]
Reply:
PepsiCo, Inc.

April 16, 2008

Christopher L. Jorgensen
P.O. Box 93042
Des Moines, IA 50393

Dear Mr. Jorgensen:
We were very excited to receive your letter. Thank you so much for taking the time to write to us here at Pepsi-Cola. Hearing from you really made our day!
All of us here at Pepsi work hard to ensure the quality of everything we do, from selecting our ingredients to the production of our award winning ads. So you can imagine how please we are to hear from the people who are most important to us, consumers like you.
I promise to share your thoughtful comments with the appropriate individuals here at the Pepsi-Cola Company. Again, thank your for contacting us, and good luck with all of your endeavors.
Sincerely,
Stephanie White
Consumer Relations Representative
SWH/KKA
Enclosures
011572918A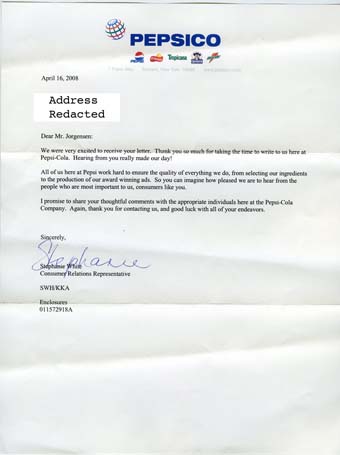 Commentary:
Have a comment? Put a stamp on an envelope and drop it in the mail to:
Christopher L. Jorgensen
PO Box 546
Ames, IA 50010
Be sure to mention what letter your comment applies to. Adding some cash with your correspondence is a good thing. You can email me at .(JavaScript must be enabled to view this email address) if you must.
Latest Replies:
Other points of interest:
Legal: