Dear Tesco
Christopher L. Jorgensen
P.O. Box 546
Ames, IA 50010
May 8, 2008

Tesco PLC
New Tesco House
Delamare Road
Cheshunt
Hertfordshire
England EN8 9SL

Dear Tesco,
My girlfriend lived in Scotland for like 5 years, and about the only thing she ever talks about with nostalgia, from her time abroad, is your stores. She thinks they're all that and a bag of chips (I hear you call them crisps over there).
Anyway, I was wondering if you have any plans on opening full blown Tesco stores near Ames, Iowa (that's in the USA) any time soon.

Thanks,

Christopher L. Jorgensen
Reply:
Tesco
Customer Service Center
Baird Avenue
Dundee
DD2 3TN
Freephone 0800 505555

Our ref: 8535233
May 26, 2008

Christopher L. Jorgensen
P.O. Box 93042
Des Moines, IA 50393

Dear Mr Jorgensen
Thank you for contacting us in regards to your request for store openings within the USA.
We are now bringing out unique brand of customer service and innovative store concepts to the West Coast of the United States, beginning with California, Nevada and Arizona. Our new U.S store concept Fresh & Easy Neighbourhood Market is all about being a fresh and easy place to shop, a good neighbour, and a great place to work.
At Fresh & Easy, our core purpose is to create value for customers to earn their lifetime loyalty. In fact, no one tries harder for customers than we do. And since retailing is a people business, we strive to treat our employees how we like to be treated.
If you would like more information the please go to www.freshandeasy.com
Yours sincerely
For and on behalf of Tesco Stores Ltd
Mandi Dean
Customer Service Manager
OVERSEAS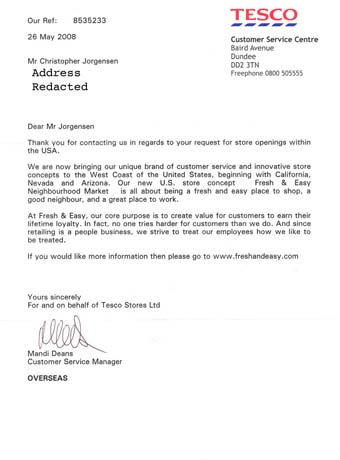 Commentary:
Have a comment? Put a stamp on an envelope and drop it in the mail to:
Christopher L. Jorgensen
PO Box 546
Ames, IA 50010
Be sure to mention what letter your comment applies to. Adding some cash with your correspondence is a good thing. You can email me at .(JavaScript must be enabled to view this email address) if you must.
Latest Replies:
Other points of interest:
Legal: