Dear Vice President Cheney
Christopher L. Jorgensen
P.O. Box 546
Ames, IA 50010
April 11, 2008
The White House
Office of the Vice Presidency
1600 Pennsylvania Avenue NW
Washington, DC 20500

Dear Vice President President Cheney,
Have you ever secretly wanted to be President? Will you disclose where your undisclosed location is to the American people once you no longer are in Office?
Could you please send me an autographed photo for my girlfriend? I'm hoping you can!
Write something like:
To [
Redacted
],

something Vice Presidential and inspiring.

(signed Vice President of the United States - Richard B. Cheney)

This would be great. Fred Thompson did this for me and she was excited for days.
Thanks,

Christopher L. Jorgensen
p.s. I love my country.
Reply:
[Editor's note: This photo was all that was received in reply.]
---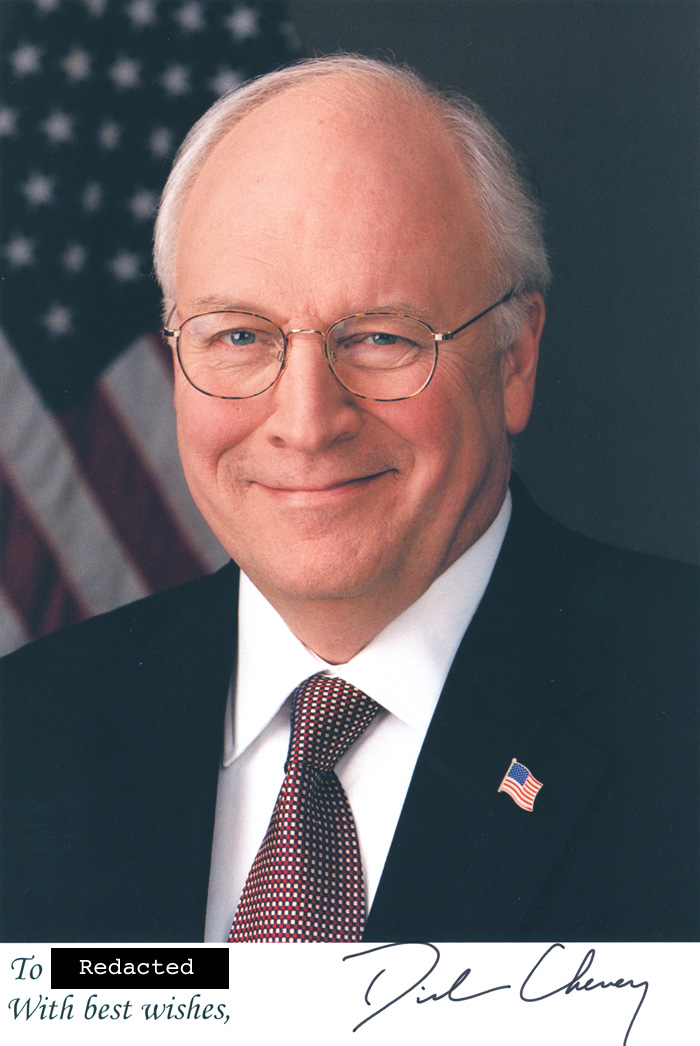 Commentary:
Have a comment? Put a stamp on an envelope and drop it in the mail to:
Christopher L. Jorgensen
PO Box 546
Ames, IA 50010
Be sure to mention what letter your comment applies to. Adding some cash with your correspondence is a good thing. You can email me at .(JavaScript must be enabled to view this email address) if you must.
Latest Replies:
Other points of interest:
Legal: